A solid record of successful completion of challenging projects
Banknorth
Location: Lewiston, Maine
Project Description: This project involved the repurposing of 54,000 sq ft of a former 19th century textile mill for bank support offices.
Challenge: In addition to all of the challenges in converting mill space to 21st century office space—temperature comfort with huge windows and exposed brick walls and high ceilings, noise with all the exposed hard surfaces and keeping mechanical and other systems from visually detracting from the dramatic colors and textures of the former factory space. This project had a tight 90-day construction window.
Central Maine Medical Center
Location: Lewiston, Maine
Project Description: Design/Build project involving replacement of a large existing 30 year old penthouse air handler for new, energy efficient unit servicing multiple hospital wings.
Challenge: No heating, cooling or ventilation could be supplied to a substantial portion of the hospital during the swap of units requiring a flawless, highly compressed schedule for the exchange.
University of Southern Maine Osher Map Library
Location: Portland, Maine
Project Description: A new addition and renovation to the Glickman Library at the University of Southern Maine, the Osher Map Library was designed to house an extensive antique map collection given to the University.
Challenge: Extensive renovation in occupied space, museum quality tolerances for temperature and humidity and architectural features that made it difficult to hide or disguise HVAC components.
General Electric
Location: Auburn, Maine
Project Description: Construction of HVAC and plumbing systems for a 40,000 sq ft electroplating addition to the existing manufacturing facility.
Challenge: In addition to a tight construction schedule, tie-ins to existing systems could not impact production
St Mary's Regional Medical Center Emergency Department
Location: Lewiston, Maine
Project Description: Construct new, fully designed 20,000 sq ft emergency department comprised of renovated existing hospital space and an adjacent new addition.
Challenge: Project required renovation in areas surrounded by occupied, sensitive space.
 Castle at Brickhill
Location: Portland, Maine
Project Description: A spectacular 65,000 sq ft brick building constructed in 1860 as housing for Maine youth offenders, Brickhill is in the process of redevelopment for medical offices and related activities. The building along with the surrounding campus has commanding views of Portland and the ocean.
Challenge: In addition to its heavy construction, this Design/Build mechanical project is a challenge because the developer has required, for cash flow considerations, that a minimum of infrastructure be installed until the remainder of the facility is developed and leased. This has had significant impact on system and equipment selections; modular and add-on components have been incorporated.
 Central Maine Health Care
Location: Lewiston, Maine
Project Description: Formerly a shoe manufacturing factory, this late 19th century heavily constructed industrial building was converted to medical offices, back offices and a nursing school to support nearby Central Maine Medical Center.
Challenge: Another Design/Build mechanical project, the challenges centered around the extensive fenestration and exposed brick walls of the original building and how it frustrated efficient heating and cooling.
 Maine General Hospital
Location: Augusta, Maine
Project Description: Construction (with Design/Build mechanical) of a 51,000 sq ft medical office building.
Numerous redesigns of the interior space delayed the start of this project without corresponding extensions of the occupancy date leaving a construction window of less than 180 days from commencement of sitework to occupancy.
 Central Maine Commerce Center
Location: Augusta, Maine
Project Description: Central Maine Commerce Center was a 3-year project to convert a 350,000 sq ft light manufacturing facility to an office facility housing State and State related tenants and offering consolidation of departments in a single location for operational efficiency along with much improved energy efficiency.
Challenge: A Design/Build mechanical project, this demonstrates the capacity of our Company to handle a large project from start to finish. More significantly, each tenant brought its own highly compressed construction schedule. Throughout, no deadlines were missed.
Rumford Hospital Consolidated Inpatient Unit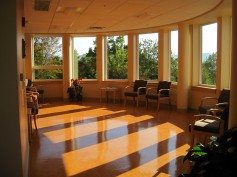 Location: Rumford, Maine
Project Description: This work involved the construction of a new 18,000 sq ft wing and an 8,000 sq ft renovation to the existing hospital. The project included expansion of the operating room and construction of new patient rooms. New mechanical systems accompanied the new addition and substantial integration with the older facility was required.
Challenge: Integration of the old and new facilities was challenging as expected but our knowledge and experience in health care work proved valuable to the client. Although the project came with a mechanical design, it was, for us, substantially a Design/Build mechanical project.
Bates Mill Boiler Plant
Location: Lewiston, Maine
Project Description: Management of a 1500HP boiler plant (2-750HP Cleaver Brooks fire tube high pressure boilers) serving a 900,000 sq ft former textile mill complex in the process of converting to office, retail and residential uses. Nason employees are fully licensed (Maine Stationary Boiler Engineer and Maine Stationary Boiler Operator Licenses as well as Maine Unlimited Master Oil Licenses) to operate facilities of this size and pressure. We have been operating this facility since 1989.
Challenge: Obtaining the requisite operators' licenses and achieving the efficiencies in the operation to enable a 25% reduction in fuel consumption along with dramatic reductions in makeup water usage.