A unique team of highly skilled, cross-trained technicians
Nason Mechanical Systems maintains a workforce of 27 field technicians. Unique in our industry, our workforce is comprised of a single pool of trained technicians from which all projects are staffed. The Company maintains an aggressive, on-going commitment to training and skills improvement. All field employees are exposed to regular on-site training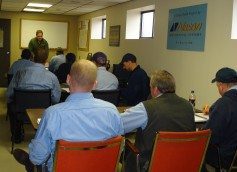 sessions in our own training facility as well as off-site manufacturer-sponsored training programs. As evidence of our commitment to training, our field staff possesses over 130 professional licenses and/or certifications amongst them.
Licenses and certifications held by Nason Mechanical Systems' field technicians include:
Maine Oil license
Maine Solid Fuel license
Maine Plumbing license
Federal Refrigerant Usage Certificate
Maine Propane and Natural Gas Certificate
Maine Stationary Boiler Engineer's license
Maine High Pressure Boiler Operator's license
Medical Gas Technician Certificate
Backflow Preventer Certificate
We stress collaboration, communication and flexibility among our field technicians which, in addition to skills development, has enabled us to develop the most dedicated, efficient and productive workforce in our market. We are committed to the belief that our clients are best served by hiring and maintaining the best workforce available. Our commitment to training has enabled us to both attract and retain the best in our industry.